HOW BHANDARI 'S MARBLE SUPERIOR FROM OTHERS MARBLE
History: Italian marble is steeped in heritage. It was used by esteemed renaissance artists including Michelangelo and Donatello, who used marble like Calacatta and Statuario to create some of the world's most iconic works of art, including the statue of David. Italian marble has been proven to stand the test of time and has stood strong for centuries on many buildings around the world, used both internally and externally.
Heritage: Another reason Italian marble is considered superior is due to the stone working heritage of the Italian people. They were pioneers in perfecting quarrying methods in ancient times, many of which are still used to this day. The Italian people are considered as purveyors of quality in many fields including fashion, cars and natural stone like marble! They set high standards for quality control and are considered technical experts when it comes to cutting and carving natural stone.
Stone Quality: Italian marble is practically peerless in the natural stone world when it comes to its durability, purity and beauty. It's synonymous with luxury, elegance and sophistication and is seen as a symbol of status in residential and commercial buildings around the world.
THEORY OF INDIAN MARBLE
People are stepping their game up with where and to what extent they are using the marble in their houses. However, they are also experimenting with the colors of the material. Apart from the classic white, black marble has also gained a lot of popularity in the interior designing arena. Bountifully, there is a long list of marble colours that can be incorporated into the interiors but each color cannot go the best with every interior as there are many aspects to be considered while choosing the right marble for your living spaces. Bhandari Marble has some of the top interior designers in Jaipur who have studied the different colors and the ways to use them perfectly with your own interior style.
Albeta White Marble
Albeta white Marble is the premium quality of Makrana Marble. It has white as the primary color with a light brown color pattern on it. Albeta white Marble is a perfect choice for interior or exterior flooring. … The main properties of this natural Marble are resistance to heat and long-lasting Shine.
Brown Albeta Marble
Brown Albeta Marble is a beautiful whitish shade base with brownish veins on it. Brown Albeta Marbles are liked for their smooth finish and texture. … It is Indian Makrana Marble. It is popular for flooring purposes in residential as well as commercial buildings.
Banswara White Marble
This unique stone is originated in the Banswara district, Rajasthan. Banswara purple marble is a white base marble with branches like structure veins all over the stone. This combination gives minimal look to the place wherever you'll install it. Banswara marble is a popular choice for floorings and wall cladding.
THERORY OF ITALIAN MARBLE
Italian marble is considered to be superior by many due to its purity, durability, and beautiful white color. The fact that many buildings, sculptures, and other works of art made centuries ago out of Carrara marble still exist today is considered a testament to its longevity.


Part of the reason for the purity and durability of Italian marble is the way it was formed. Marble is basically crystallized limestone. When limestone (a sedimentary rock) is met with high temperature and great pressure, large crystals form and bind together to create marble (a metamorphic rock.) The intense heat destroys most of the impurities once found in the stone. Left behind are large sections of white marble with varied colored veins running through it. The color and boldness of the veins vary with the amount and type of minerals that are present in the limestone. This naturally varies based on the location of the marble, making every marble slab completely unique.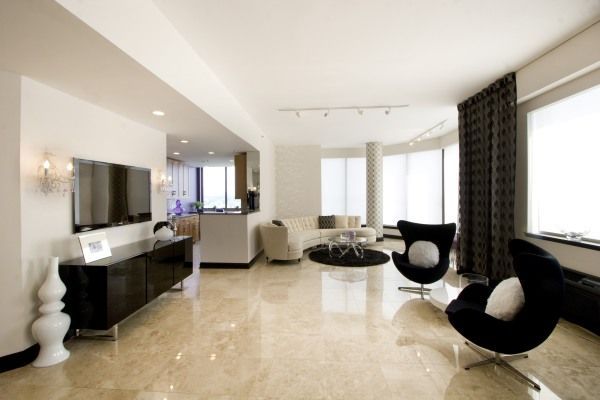 Sometimes slabs will be cut and tagged as "Italian" when they may have been quarried in countries like China or Vietnam, then shipped to Italy for cutting and exported to the U.S. for distribution. The term "Carrara marble" should literally mean that the marble was quarried from Italy's Carrara region, not just that it was cut there. So when you're shopping, be sure you ask a lot of questions to confirm that you're actually getting what you're paying for.
So, what is the best type of Italian Marble?
Here at Bhandari Marble in Sydney, many customers come to us and ask, "Which is the best kind of Italian marble?". However, there are way too many variables involved to have a one size fits all answer to this question. It depends on how much traffic the area will receive, whether they'll be exposed to spills or excessive heat, used indoors or outdoors, which room they will be used in.
Some of our most popular Italian marbles in-store are Calacatta, Statuario and Carrara marble. These stones are ideal for indoor applications and are commonly used as kitchen bench tops, splash backs and bathroom vanities. Much like all natural stones, they should all be sealed appropriately and maintained with PH neutral detergents that are not abrasive to the stones surface. We delve in a little deeper below to find out the difference between each of these natural stones.
Top 5 Italian marble
If you want the best of the best, check out the top 5 Italian marble.
1.STATUARIO
The superb bold texture and flawless finish are some of the most popular choices for this well-loved Italian marble.
2. BOTTOCHINO
Elegant and classy, the Botticino Crema is a soft, distinguished marble that makes for charmingly clear surfaces.
3. PERLATO SICILIA
Characterized by an ivory base and enriched with discreet darker veins and small occlusions, the Italian Perlato Sicilia marble is great for luxurious and sombre interiors.
4. CALACATTA VAGLI
Patches of white in a web of beige, the Calacatta is like a piece of fluid art frozen in time.
5. ROSSO LEVANTE
The stunning red marble with white veins running haywire creates an impressive image of a broken red mirror. This one is mostly used for décor or vanity tops.
BHANDARI MARBLE GROUP
Get your home renovated with the best marble interiors you will look unto and ease up your lives from the extra care needed afterward which is negligible with marbles. Our interior design service in Kishangarh works to create eclectic designs for your house interiors and personalize your designing experience. Keep following our interior blogs for more trends, tips, and tricks to keep you updated.
ADDED BY EXPERT TEAM OF BHANDARI MARBLE GROUP…9784593721
By D.C. Bhandari
HOW BHANDARI 'S MARBLE SUPERIOR FROM OTHERS MARBLE