MOSAIC TILES
Our Best Shower Mosaic Tile Ideas to Transform your Bathroom
Your bathroom and the walk-in shower are the areas you love to visit in the mornings to get ready for the day. How about adding value to space by choosing the most creatively designed shower tile ideas? If restyling your bathroom is on your to-do list, this article takes you through some of the most eye-catching tile ideas with attractive tile patterns, modern styles, and endless elegance. Our online tile outlet is committed to offering the broadest range of mosaic tiles for various applications, including bathroom and shower tile. We cover an enormous selection of the most stylish patterns, colors, finishes, and materials to help you create a modern appeal. Here are our picks for the most appreciated range of modern shower mosaic tile ideas.
Beautify Your Bathrooms & Showers with this Classic Cross-Pattern Ceramic Mosaic Tile
Mosaic tiles are ideal for shower tile applications as they are dense, water-resistant, and highly durable when continuously exposed to water. We bring a unique twist to the story through the marvelous tile pattern in this shower tile. This unique interlocking tile with an eye-catching pattern is one of the most attractive shower tile ideas available today.
The classic architectural style in a marble-like appearance adds timeless beauty to this mosaic tile design and any space it's installed in. You can use this mosaic tile to create an accent wall inside your bathroom or cover the entire shower floor and walls. Whether utilized as a bathroom backsplash tile or shower wall tile, this product can enhance the aesthetic elegance of wet areas throughout your home.
A Beautifully Handcrafted Hexagon Mosaic Tile
Here is one of the most creative shower mosaic tile design ideas that can add a rare appeal to your bathroom and shower spaces. This hexagon mosaic tile features Light Blue and Beige hues in a metallic finish, providing a type of mirrored effect, as highlighted in the images below.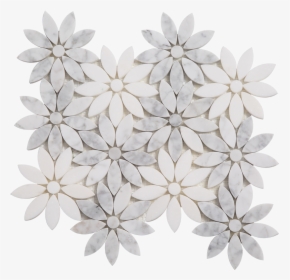 The soft, subtle colors contrasted by the shimmering metallic finish can turn any bathroom or shower wall into a dramatic visual statement. The small hexagon mosaic extending from one tile to the next creates a shimmering surface that will take your shower to the next level. All-in-all, one of the most mesmerizing shower mosaic tile ideas in our collection!
The shapes of this handout hexagon shower mosaic tile are great for showers but can be utilized for an accent wall adjacent to a bathtub, for example. The colors compliment the other interior decor elements in your room, like your bath fittings, cabinetry, paint on the wall, any appliances, and more. For the same reasons this tile is ideal for bathroom areas, it can also be utilized as a swimming pool mosaic tile – the possibilities are endless!
The Timeless Tile Trend: Subway  Mosaic Tiles
We try to innovate and blend various materials in various patterns and colors to create a mix of classic yet contemporary elegance for your interior spaces. While renovating your shower walls, if you desire a balance of classic and modern aesthetics, this dark gray distressed ceramic subway tile could be a perfect choice. Choose a suitable grout to create a contrasting outline between the seams on your shower walls. The 2.5″ x 8″ Subway pattern in a neutral dark gray color adds an understated beauty to the space, making it one of the most exciting shower tile ideas offered today.
The Gray color creates a neutral effect and enhances the shine of your shower and bath fixtures. Because this subway mosaic tile is made from durable ceramic, it would also be ideal for any Kitchen Backsplash or Feature Wall. If other tile patterns are a bit too much for your interior design theme, the subway pattern is a style element that stands the test of time.
Marble Magic to Maximize your Shower Mosaic Tile Design
Marble has been utilized in bathroom design for as long as people have been building houses. Have you ever considered how beautiful your bathroom would look with every surface adorned in marble tile – from the bathroom floor and walls right into the shower floors and walls? If so, we offer an amazing range of marble floor tiles and wall tiles to make your bathroom the beautiful space you always dreamed of. The beauty of these tile ideas lies in the materials we use – authentic honed stone and marble from the top quarries around the world. You won't find a more expansive collection of marble mosaic tiles anywhere else! 
Utilizing the most appealing natural stones, including Milas and Carrara Marble, we have the products to implement even your wildest bathroom and shower mosaic tile design ideas. Browse our marble mosaic tile collections to find the perfect bathroom tile and shower tile for your next project. Hexagon and herringbone marble mosaic tiles are ideal for shower tile, including shower floor tiles. Marble floor mosaic tile is extremely durable and will look great for years to come. Installing either or both of these patterns in your bathroom spaces will add elegance to your spaces. Along with bathroom and shower tile, our marble mosaic tiles are also a perfect choice for kitchen backsplash tile.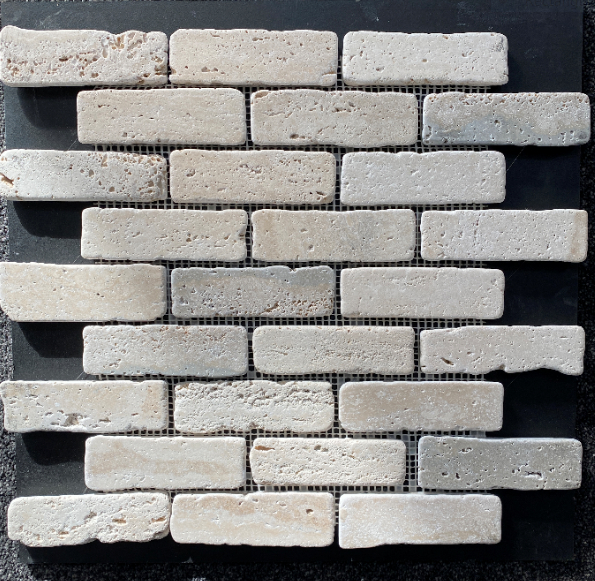 This is among the best shower mosaic tile ideas to make your bathroom a space that you and your loved ones will love to spend time in. The pillowed shapes of these shower mosaic tiles help create a stylish accent, and the interlocking tile design makes installation easy. Install this modern blue glass tile in your bathroom and shower areas to immerse yourself in a soothing aura. Like all tiles in our exclusive collection, enjoy free shipping for your next bathroom tile project!
Shades of Beige:  Mosaic Tile with an Arabesque Pattern
Attractive beige colors alternating white in a modern arabesque pattern make these mosaic tiles one of the most appealing shower tile ideas available today. Porcelain is among the most durable tile materials, similar to Ceramic, making this arabesque tile perfect for bathroom and shower applications. With the timeless Arabesque pattern inspired by Arabic architecture, these shower tiles demand attention and enhance the appearance of any space.
This mosaic tile is ideal to create an accent wall adjacent to your tub or vanity, or installed as a bathroom backsplash tile as shown in the image above. The alternate neutral colors create a unique visual interest without being overbearing or clashing with other fixtures and finishes. The shapes and the colors work in perfect harmony to bring balance to your bathroom and shower walls. The USA is a suitable grout to highlight the contrast in colors and enhance the porcelain tile texture. Along with bathrooms, this arabesque mosaic is also a great choice for kitchen backsplash tile. Browse our exclusive online collection today and enjoy free shipping on every order for your next bathroom tile project.
INDIA'S TOP AND WORLD'S BEST MARBLE, GRANITE AND STONE COMPANY
ADD BY EXPERT AND EXPORT TEAM OF BHANDARI MARBLE GROUP.
Mosaic Tiles By Bhandari Marble Group